Get an Elasticsearch Check-Up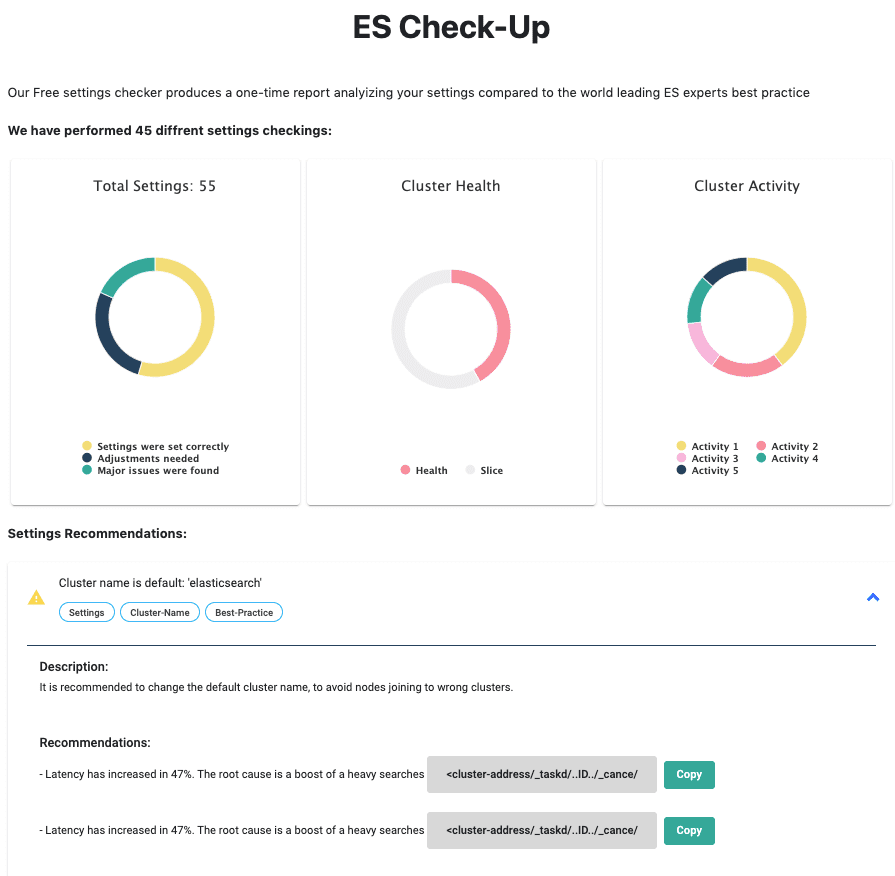 Check if your ES issues are caused from misconfigured settings
(Free 2 min process)
Check-Up
Last update: Jan-20
Elasticsearch Error Guide In Page Navigation (click to jump) :
Troubleshooting Background – start here to get the full picture
Related Issues – selected resources on related issues
Log Context – usefull for experts
About Opster – offering a diffrent approach to troubleshoot Elasticsearch
Check Your Elasticsearch Settings for Painfull Mistakes
---
Troubleshooting background
To troubleshoot Elasticsearch log "Not starting watcher; upgrade API run required: .watches; .triggeredwatches" it's important to know common problems related to Elasticsearch concepts: plugin, upgrade. See below-detailed explanations complete with common problems, examples and useful tips.
Plugin in Elasticsearch
What it is
Plugins are used to extend the functionality of Elasticsearch. In addition to the core plugins available to you, it is possible to write custom plugins as well. Plugins are generated in a zip format with the mandatory file structure.
Examples:
Core Plugins: Xpack for Security and monitoring, Discovery plugins for EC2
Adding S3 plugin for storing snapshots on S3

sudo bin/elasticsearch-plugin install repository-s3

Adding HDFS plugin for storing snapshots on HDFS

sudo bin/elasticsearch-plugin install repository-hdfs


sudo bin/elasticsearch-plugin remove repository-hdfs

Notes:
Plugins are installed using the Elasticsearch-plugin script, which enables actions such as listing, removing and installing plugins.
Core plugins can be installed simply by providing the name of the plugin to the Elasticsearch-plugin command.
You can also download the plugin manually and then install it using the elasticsearch-plugin install command, providing the file name/path of the plugin's source file.
When a plugin is removed, you will need to restart the elasticsearch node(s) in order to complete the removal process.
Common Problems:
You need to install the required plugins in your Elasticsearch deployment before moving it to production machines. (as it's likely your production machines are behind a proxy and it's very hard to get plugins installed behind a proxy).
The same is true when you are going to deploy elasticsearch using Docker images, you will most likely be rebuilding the standard image and including your required plugins in the custom docker build. Make sure the docker build is run on a build machine that is not behind a proxy, otherwise the plugin installation will fail during docker build.
Click here to get to our list of the Most frequent issues caused by Elasticsearch Plugins
Upgrade in Elasticsearch
What is it
Upgrade refers to migrating your Elasticsearch version to a newer version. An upgrade of an existing cluster can be done in two ways: through a rolling upgrade and through a full cluster restart. The benefit of a rolling upgrade is having zero downtime.
Commos problems and important points
The major problem with upgrades is version incompatibility between upgrades. Elasticsearch supports rolling upgrades only between minor versions. You need to make sure to go through the official documentation to see if your cluster can support a rolling upgrade, otherwise a complete reindexing is required.
Once you upgrade an Elasticsearch node, a rollback can not be done. You need to make sure to take data backups before an upgrade.
Elasticsearch continuously removes or deprecates some of the features with every release, so keep an eye on the change logs of each version before planning an upgrade.
While doing a rolling upgrade, it is important to disable shard allocation before stopping a node and enable the shard allocation when node is upgraded and restarted. This process helps in avoiding unnecessary IO load in the cluster.
---
Related issues to this log
To help troubleshoot related issues we have gathered selected Q&A from the community and issues from Github , please review the following for further information :
1. Es 5 4 6 0 Upgrade Watcher Issues
---
Log Context
Log "Not starting watcher; upgrade API run required: .watches; .triggeredwatches" classname is WatcherService.java
We have extracted the following from Elasticsearch source code to get an in-depth context :

         boolean isIndexInternalFormatWatchIndex = watcherIndexMetaData == null ||
            UpgradeField.checkInternalIndexFormat(watcherIndexMetaData);
        boolean isIndexInternalFormatTriggeredWatchIndex = triggeredWatchesIndexMetaData == null ||
            UpgradeField.checkInternalIndexFormat(triggeredWatchesIndexMetaData);
        if (isIndexInternalFormatTriggeredWatchIndex == false || isIndexInternalFormatWatchIndex == false) {
            logger.warn("not starting watcher; upgrade API run required: .watches[{}]; .triggered_watches[{}]";
                isIndexInternalFormatWatchIndex; isIndexInternalFormatTriggeredWatchIndex);
            return false;
        }

        try {






---
About Opster
Incorporating deep knowledge and broad history of Elasticsearch issues. Opster's solution identifies and predicts root causes of Elasticsearch problems, provides recommendations and can automatically perform various actions to manage, troubleshoot and prevent issues
Learn more: Glossary | Blog| Troubleshooting guides | Error Repository
Need help with any Elasticsearch issue ? Contact Opster