We're happy to share some of Opster's highlights from the third quarter of 2023 and some of our upcoming features that will be released soon.
Our Q3 has been a whirlwind of activity, with the roll-out of numerous innovative functionalities, each tailored to meet the evolving demands of our customers and the community as a whole. If you want to try them out for yourself, you can start a free trial here.
Here's a few of the most exciting features we added:
Q3-2023 Feature Highlights
Intuitive dashboard design so you can see the most pressing information in one place
Last month we introduced our brand new AutoOps dashboard design. The new dashboard aims to elevate your experience, presenting a wide range of information about your Elasticsearch / OpenSearch clusters in an easy-to-navigate design.
Some of the benefits of the new dashboard include:
Easier than ever to see which clusters require attention in a single view, including events over time comparing cluster activity.
Notification center that provides insights on all clusters, showing which events were triggered the most and which events were the noisiest.
Which clusters cost the most and which have the highest cost-saving potential.
Drill downs to the most important events, and more.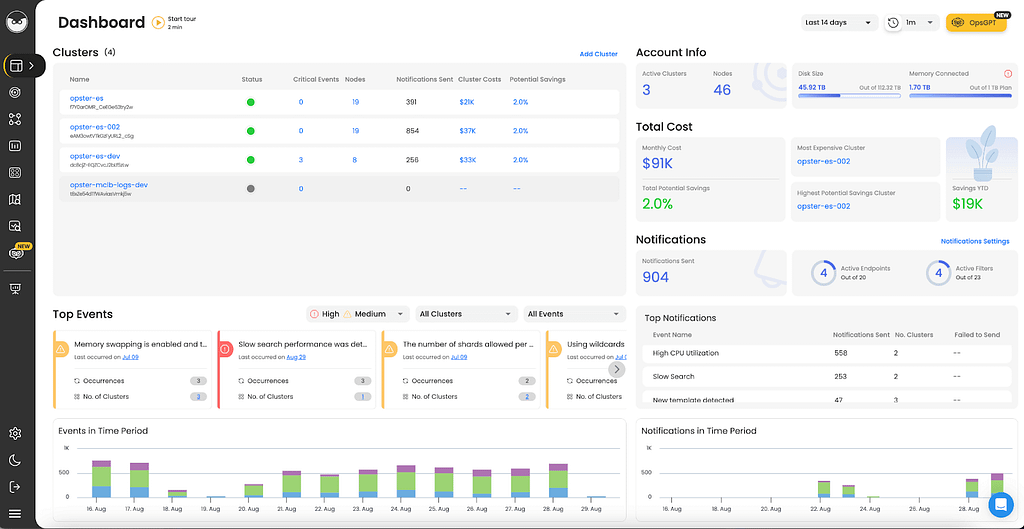 Easier than ever to use AutoOps with OpsGPT integration
This quarter we integrated OpsGPT into AutoOps in several ways to make it easier to use independently. You can now use OpsGPT to help you connect clusters to AutoOps thanks to the OpsGPT installation wizard.
You can also ask OpsGPT about events occurring in your clusters, with the chat built into the events and a general chat available to answer all of your questions.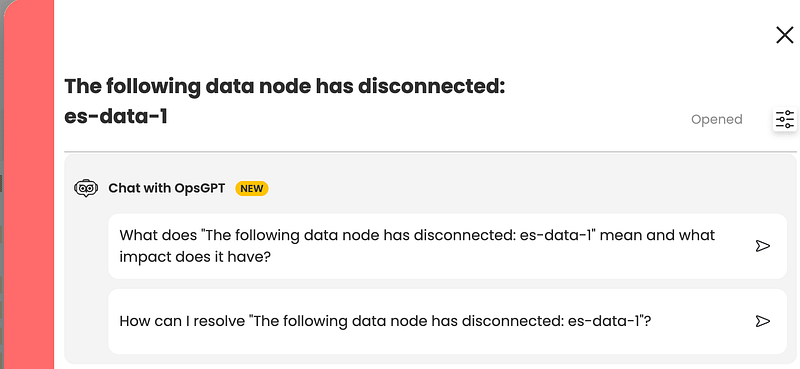 Get notifications from AutoOps when issues begin and also when they are resolved
You asked and we listened. Want to know when the issue has been resolved and isn't happening anymore? You can now configure AutoOps notifications to not only alert you when an issue has occurred, but also when it resolves.
This feature is now available for Slack, MS-Teams and webhook settings.
If you wish to be notified on closed events, go to Settings/Notification/Endpoint settings and enable the feature.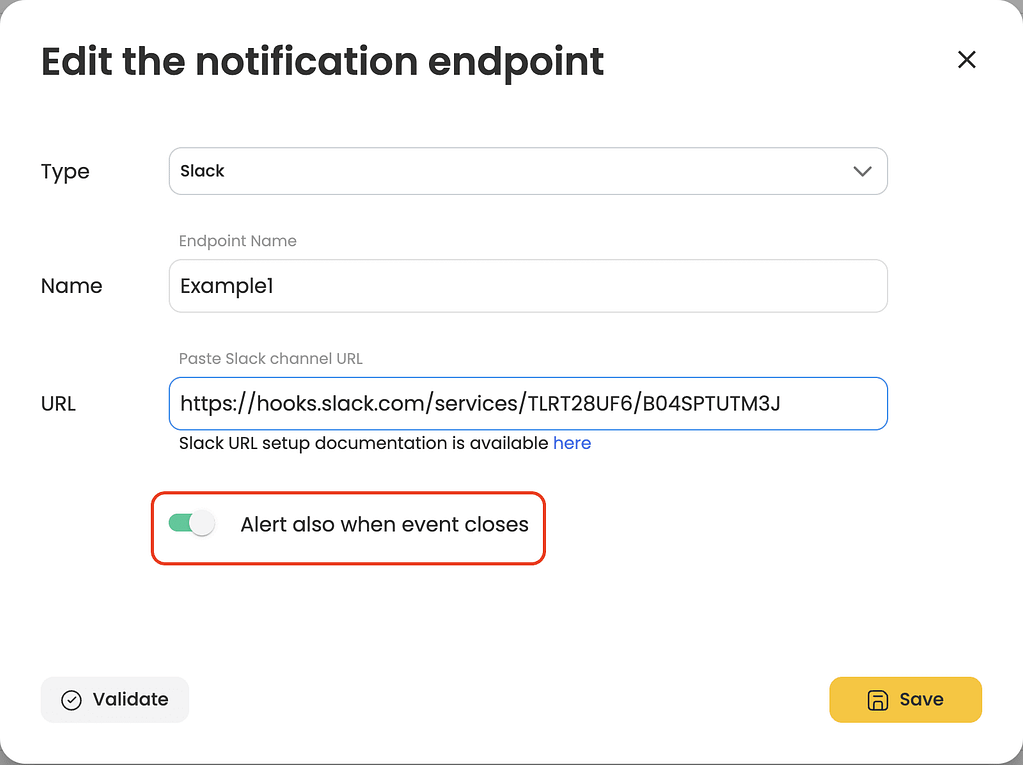 Reduce costs and follow your expenses with the cost saving graphs in AutoOps Reports
With the introduction of new cost savings events to AutoOps, we have also added a new section in AutoOps Reports to provide historical data of cluster cost and savings up to a year back.
Beyond this, we have updated the node count and added a breakdown by roles to provide better visibility.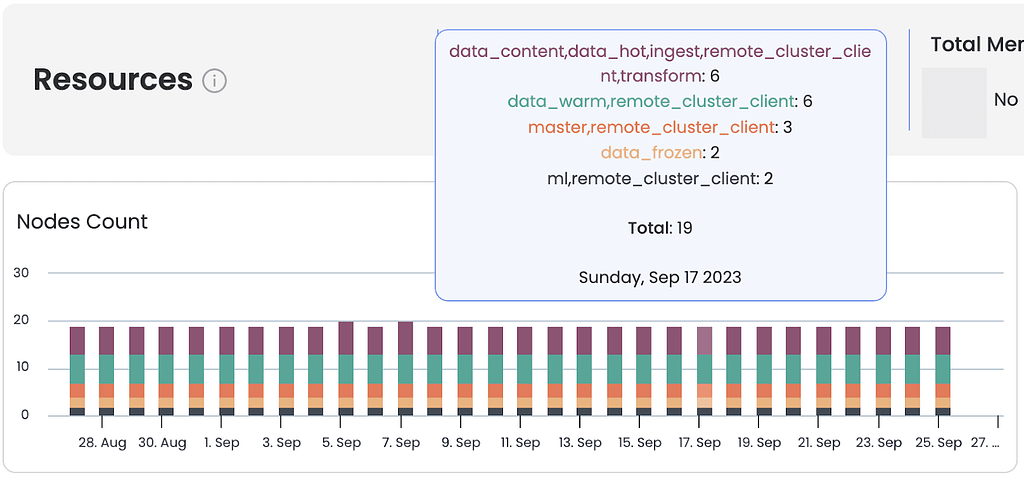 Improve performance and prevent issues by monitoring CPU utilization with the new AutoOps event
We added a new event to AutoOps that monitors when the CPU utilization has crossed the defined threshold. High CPU usage can lead to slower response times, reduced throughput, increased error rates, and instability or crashing of the cluster. It can also indicate inefficient resource usage, leading to higher costs.
In addition to all of the above, if Elasticsearch/OpenSearch shares hardware with other applications, its high CPU usage can negatively impact their performance. To avoid these problems, it's crucial to appropriately configure the cluster, optimize operations, monitor performance, and scale resources as necessary. This is made simple with the new AutoOps event.
Track issue development over time in AutoOps
We redesigned the events over time chart in AutoOps' Cluster View to make it easier to see all events and their occurrences in a specified time period. Users can use the zoom in option to drill down and see exactly when an event occurred, and quickly open the most recent event.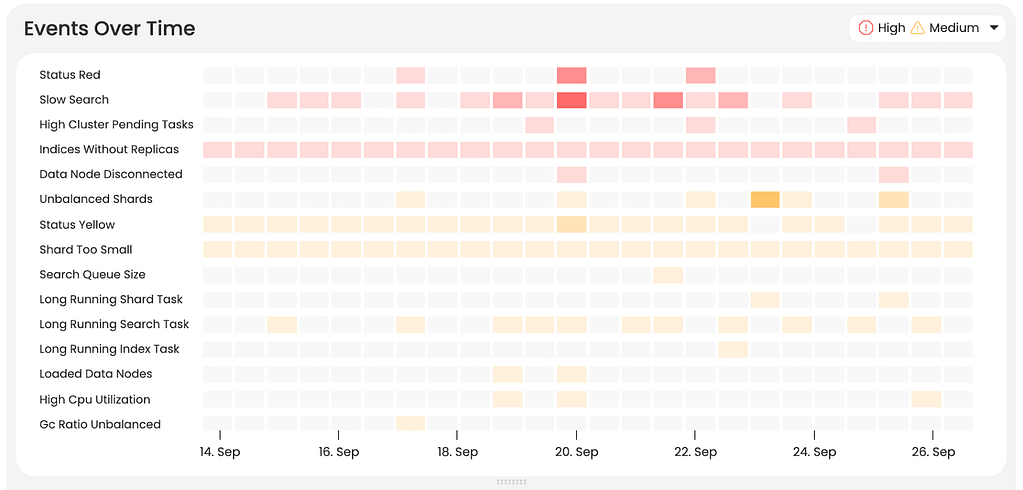 Here's to another great quarter!
As always, there's more coming soon, so stay tuned.
Want to start using AutoOps? You can sign up for a free trial here, or contact us here!
Want to start using OpsGPT for free? Check it out here.