Launch of OpsGPT and more!
We're happy to share some of Opster's highlights from the second quarter of 2023 and some of our upcoming features that will be released soon.
Our Q2 has been a whirlwind of activity, with the roll-out of numerous innovative functionalities, each tailored to meet the evolving demands of our customers and the community as a whole. If you want to try them out for yourself, you can start a free trial here.
Here's a few of the most exciting features we added:
Q2-2023 Feature Highlights
Increasing community support with OpsGPT
At the end of this quarter we released OpsGPT, pushing boundaries for the community by providing an Elasticsearch and OpenSearch expert bot. For those that don't have premium support with our human team of experts, they can find answers to simple issues with OpsGPT.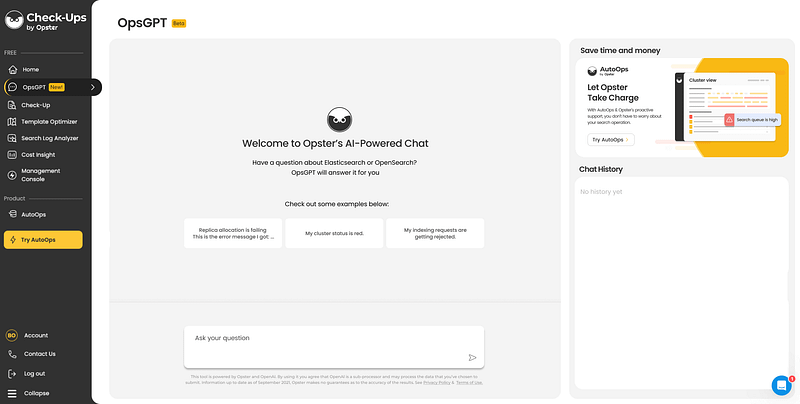 New cost saving opportunities with AutoOps events
We've expanded our cost saving features by introducing new cost saving recommendations to AutoOps. Every event includes an estimation of the savings, what aspect of the cluster the optimization pertains to, and clear, actionable recommendations on how to implement the changes. We believe these new recommendations will significantly enhance your ability to manage your cluster cost effectively.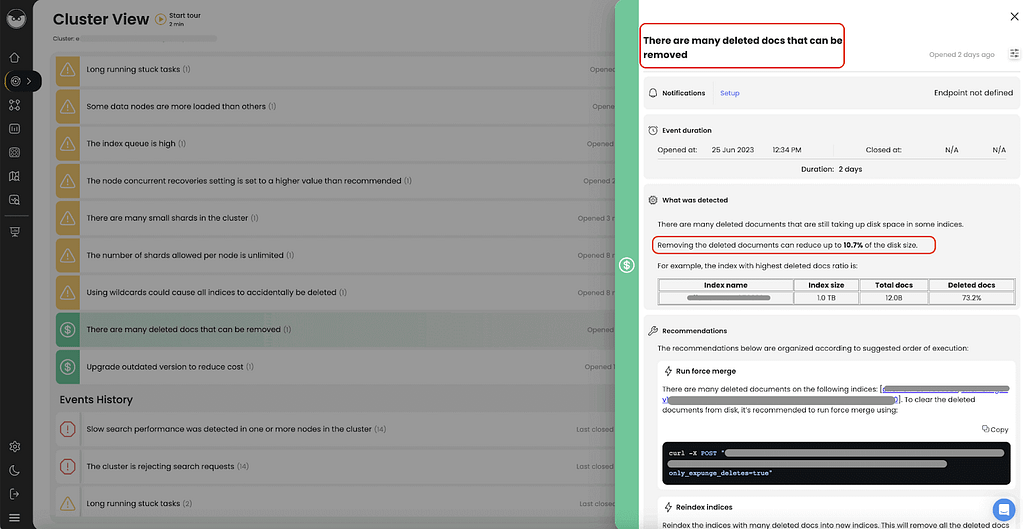 Accurately calculate savings on your cluster and apply recommendations
We've added potential savings based on real-time analysis of resources, shown in new KPI metrics you can see on Cluster View. The new metrics provide a comprehensive breakdown of costs, notify you when costs are trending upwards and provide a detailed breakdown of your expenses by different components and resources in your clusters.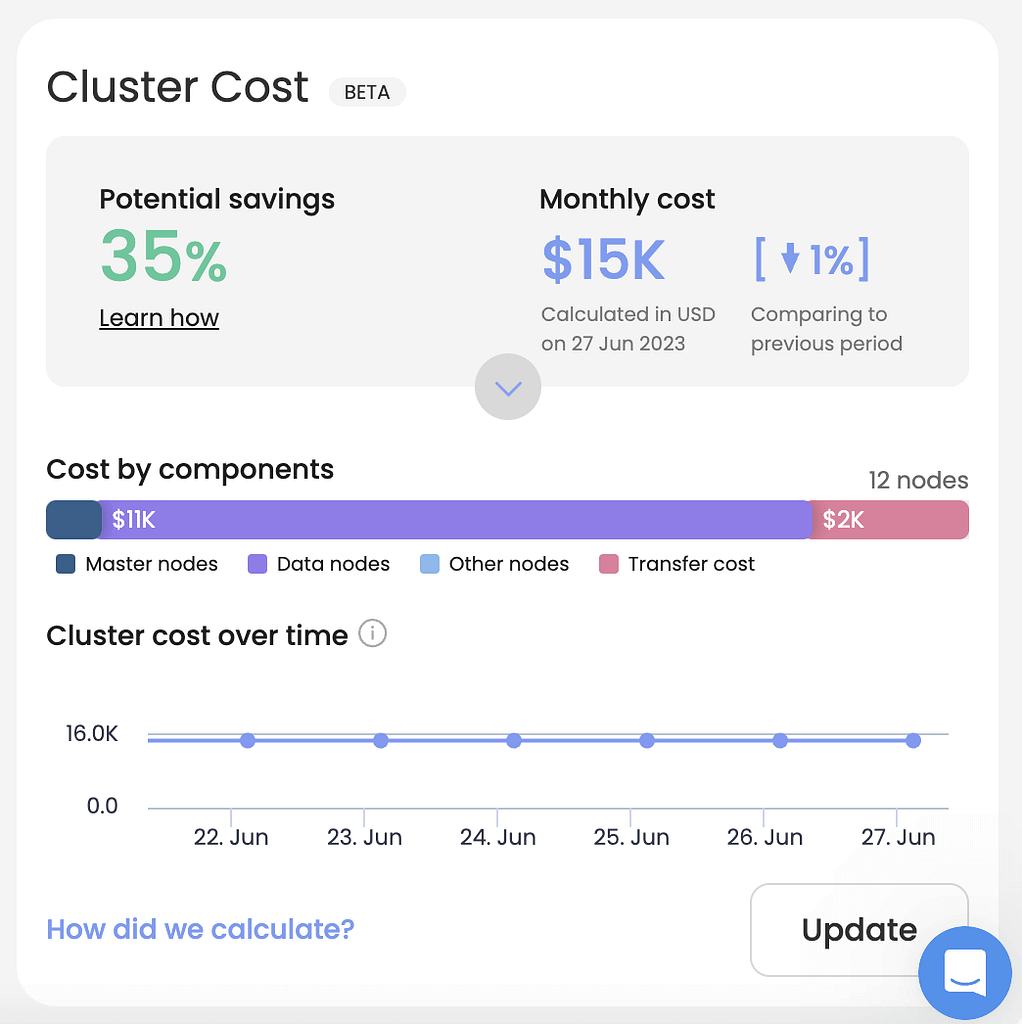 Enhanced security and compliance with multi-token connection feature
We understand that security and compliance are paramount for your Elasticsearch and OpenSearch clusters. That's why we're introducing our new multi-token connection feature in AutoOps. This feature allows you to use more than one token to connect your clusters to AutoOps, enhancing the security of your operations.
The multi-token connection functionality enables a revolving token mechanism, further reducing the risk of unauthorized access and improving compliance standards. This empowers you to manage and monitor your clusters with greater peace of mind, knowing that your connections are secure.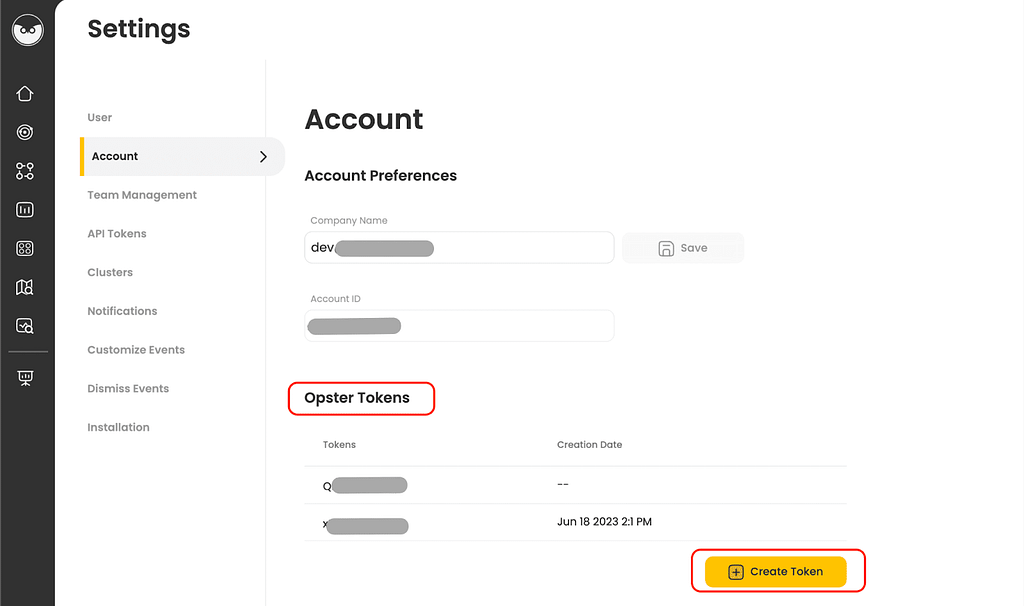 Immediate template uploads and extended analysis
You can now manually upload and analyze index and composable templates at any time, bypassing the periodic automated process. This feature was highly requested by our customers and we're happy to share that it's now live. This gives you immediate analysis and optimization recommendations tailored to your specific needs.
Beyond this, we understand that valuable insights can come from all corners of your operations. So, in addition to this, AutoOps now extends its analysis capabilities to include templates from clusters that were previously not analyzed, such as those from your Dev environment. This means you can glean valuable insights and optimize areas that were previously not available.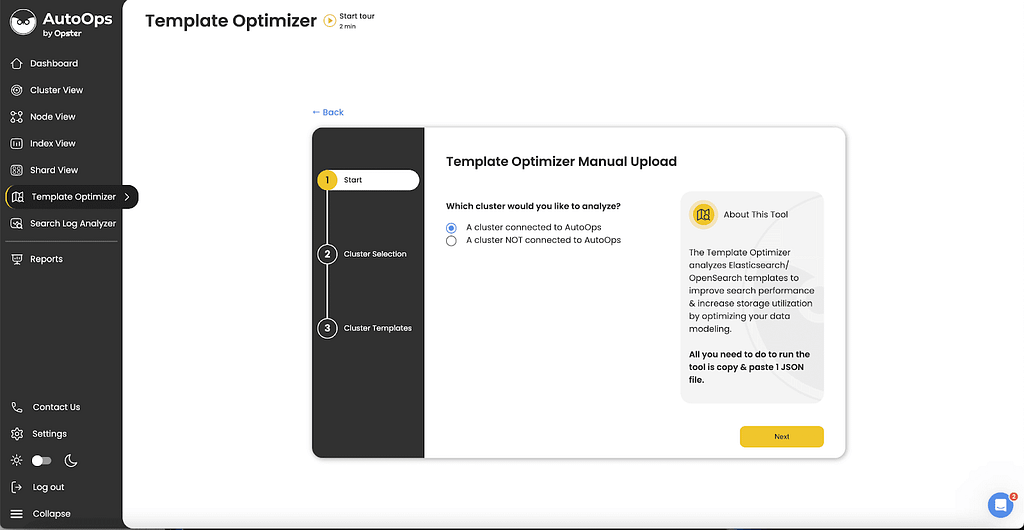 Coming soon:
Use OpsGPT as part of AutoOps
We're working on integrating OpsGPT seamlessly into AutoOps to provide even greater value to our customers. OpsGPT will act as a personal search expert available to assist with small matters, in addition to the human Opster expert team who are available to those with support packages.
Easily view and sort insights with the new redesigned AutoOps dashboard
With the new AutoOps dashboard, it will be easier than ever to get insights from across your entire environment. Simply spot the most critical issues in your clusters, view the total cost and savings of your clusters and track your notification stats with the new additions to the dashboard.
Additional cost saving elements
We're adding many additional cost-saving rules and reports, especially long term reports and KPIs. The primary addition will be long-term views of cost and savings opportunities in reports, going back years, so you can get the most accurate picture possible of your cost over time and where you can save.
Here's to another great quarter!
As always, there's more coming soon, so stay tuned.
Want to start using AutoOps? You can sign up for a free trial here, or contact us here!
Want to start using OpsGPT for free? Check it out here.
We are sorry that this post was not useful for you!
Let us improve this post!
Tell us how we can improve this post?