Get an Elasticsearch Check-Up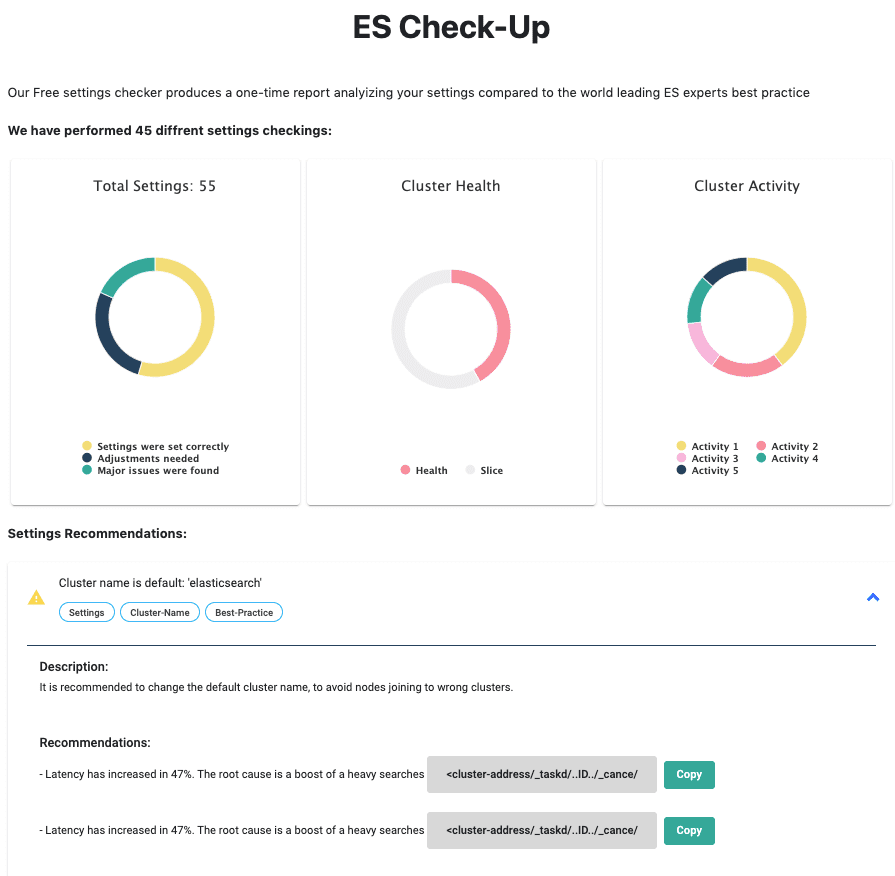 Check if your ES issues are caused from misconfigured settings
(Free 2 min process)
Check-Up
Last update: Jan-20
Elasticsearch Error Guide In Page Navigation (click to jump) :
Troubleshooting Background – start here to get the full picture
Related Issues – selected resources on related issues
Log Context – usefull for experts
About Opster – offering a diffrent approach to troubleshoot Elasticsearch
Check Your Elasticsearch Settings for Painfull Mistakes
---
Troubleshooting background
To troubleshoot Elasticsearch log "Heap size ; compressed ordinary object pointers" it's important to know common problems related to Elasticsearch concepts: node. See below-detailed explanations complete with common problems, examples and useful tips.
Nodes in Elasticsearch
What it is
Simply explained a node is a single server that is part of a cluster. Each node is assigned with one or more roles, which describes the node responsibility and operations – Data nodes stores the data, and participates in the cluster's indexing and search capabilities, while master nodes are responsible for managing the cluster activities and storing the cluster state, including the metadata.
While it's possible to run several Node instances of Elasticsearch on the same hardware, it's considered a best practice to limit a server to a single running instance of Elasticsearch.
Nodes connect to each other and form a cluster by using a discovery method.
Roles
Master node
Master nodes are in charge of cluster-wide settings and changes – deleting or creating indices and fields, adding or removing nodes and allocating shards to nodes. Each cluster has a single master node that is elected from the master eligible nodes using a distributed consensus algorithm and is reelected if the current master node fails.
Coordinator Node (aka client node)
Coordinator Node – is a node that does not hold any configured role. It doesn't hold data, not part of the master eligible group nor execute ingest pipelines. Coordinator node serves incoming search requests and is acting as the query coordinator – running the query and fetch phases, sending requests to every node which holds a shard being queried. The client node also distributes bulk indexing operations and route queries to shards copies based on the nodes responsiveness.
---
Related issues to this log
---
Log Context
Log "Heap size ; compressed ordinary object pointers" classname is NodeEnvironment.java
We have extracted the following from Elasticsearch source code to get an in-depth context :

 
    private void maybeLogHeapDetails() {
        JvmInfo jvmInfo = JvmInfo.jvmInfo();
        ByteSizeValue maxHeapSize = jvmInfo.getMem().getHeapMax();
        String useCompressedOops = jvmInfo.useCompressedOops();
        logger.info("heap size [{}]; compressed ordinary object pointers [{}]"; maxHeapSize; useCompressedOops);
    }


    /**
     * scans the node paths and loads existing metaData file. If not found a new meta data will be generated






---
About Opster
Incorporating deep knowledge and broad history of Elasticsearch issues. Opster's solution identifies and predicts root causes of Elasticsearch problems, provides recommendations and can automatically perform various actions to manage, troubleshoot and prevent issues
Learn more: Glossary | Blog| Troubleshooting guides | Error Repository
Need help with any Elasticsearch issue ? Contact Opster