Get an Elasticsearch Check-Up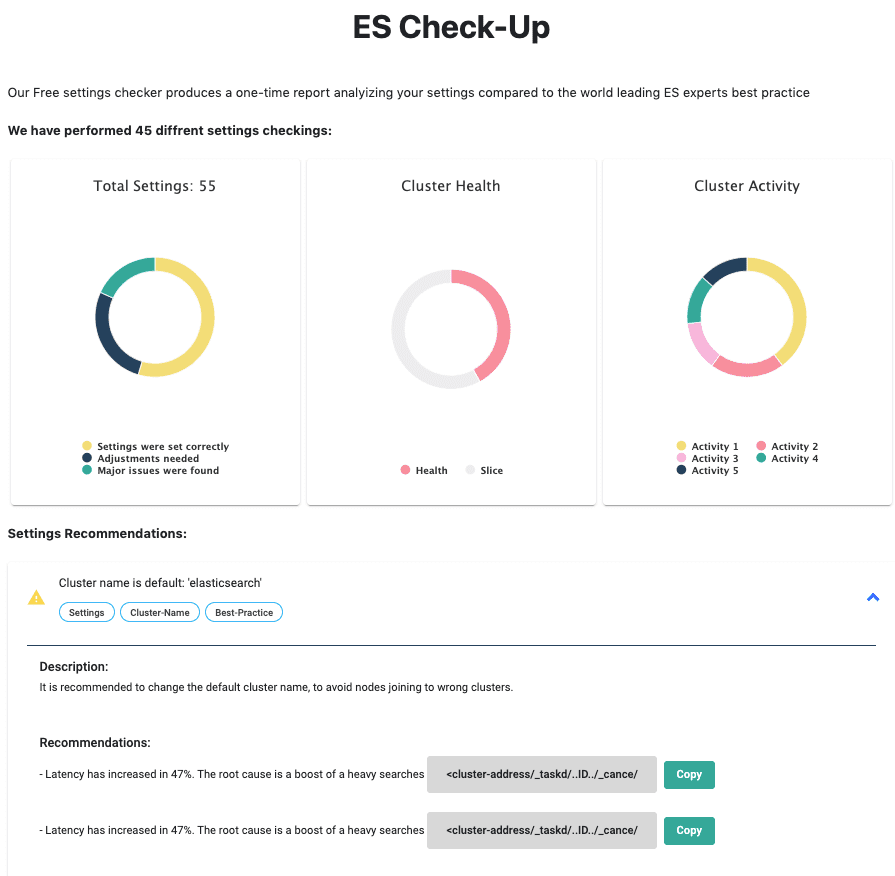 Check if your ES issues are caused from misconfigured settings
(Free 2 min process)
Check-Up
Last update: Jan-20
Elasticsearch Error Guide In Page Navigation (click to jump) :
Troubleshooting Background – start here to get the full picture
Related Issues – selected resources on related issues
Log Context – usefull for experts
About Opster – offering a diffrent approach to troubleshoot Elasticsearch
Check Your Elasticsearch Settings for Painfull Mistakes
---
Troubleshooting background
To troubleshoot Elasticsearch log "Couldnt store response" it's important to know common problems related to Elasticsearch concepts: task. See below-detailed explanations complete with common problems, examples and useful tips.
Task in Elasticsearch
What it is
A task is equivalent to an Elasticsearch operation, which can be any request performed on an Elasticsearch cluster. For example, a delete by query request, a search request and so on. Elasticsearch provides a dedicated Task API for the task management which includes various actions, from retrieving the status of current running tasks to canceling any long running task.
Examples
Get all currently running tasks on all nodes of the cluster
Apart from other information, the response of the below request contains task IDs of all the tasks which can be used to get detailed information about the particular task in question.

GET _tasks

GET detailed information of a particular task
clQFAL_VRrmnlRyPsu_p8A:1132678759 is the ID of the task in below request.

GET _tasks/clQFAL_VRrmnlRyPsu_p8A:1132678759

Get all the current tasks running on particular nodes

GET _tasks?nodes=nodeId1,nodeId2

Cancel a long-running task
clQFAL_VRrmnlRyPsu_p8A:1132678759 is the ID of the task in the below request.

POST /_tasks/clQFAL_VRrmnlRyPsu_p8A:1132678759/_cancel?pretty

Notes
The Task API will be most useful when you want to investigate the spike of resource utilization in the cluster or want to cancel an operation.
---
Related issues to this log
To help troubleshoot related issues we have gathered selected Q&A from the community and issues from Github , please review the following for further information :
1. Elasticsearch slow response time – Stats : ♥ 2.03 K Ι √ 2
---
Log Context
Log "Couldnt store response" classname is TaskManager.java
We have extracted the following from Elasticsearch source code to get an in-depth context :

<pre class="wp-block-syntaxhighlighter-code">         }
        final TaskResult taskResult;
        try {
            taskResult = task.result(localNode; response);
        } catch (IOException ex) {
            logger.warn(() -> new ParameterizedMessage("couldn't store response {}"; response); ex);
            listener.onFailure(ex);
            return;
        }

        taskResultsService.storeResult(taskResult; new ActionListener<Void>() {




</pre>

---
About Opster
Incorporating deep knowledge and broad history of Elasticsearch issues. Opster's solution identifies and predicts root causes of Elasticsearch problems, provides recommendations and can automatically perform various actions to manage, troubleshoot and prevent issues
Learn more: Glossary | Blog| Troubleshooting guides | Error Repository
Need help with any Elasticsearch issue ? Contact Opster